firmTRAK dashboard is your integrated solution that combines your legal CRM data with your accounting system financials. The areas include Clients, Matters, Financials, Productivity, Matter Tracker, Trust and AR (Accounts Receivable).
These areas are located in the ribbon across the top of the application.

Discover more about the different dashboard areas and methodologies by reading each about each subsection.
*Important*
A note about filtering and the general functionality of the graphs. Each graph in the firmTRAK application has robust options for filtering and how you choose to display the data. Each graph can also export what is currently displayed in a range of formats including .png, .csv,

and .pdf. by clicking on the menu tile icon of each graph.
To display your filtering options click on the funnel icon in the upper right hand corner of each graph.

| | |
| --- | --- |
| Click the blue "FILTER" button to apply | |
To display a summary of what the graph is displaying, click the info icon in the upper right hand corner of each graph

The graph labels can be toggled on or off on the graph by clicking on each label. A toggled off label will be displayed in greyscale.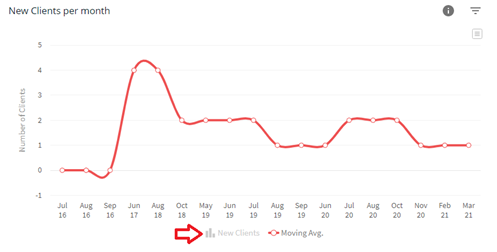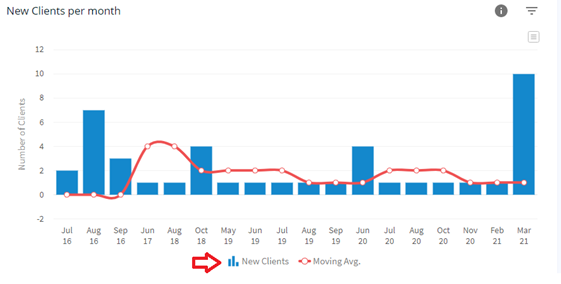 Mouseover each bar or section of the graph to display the value.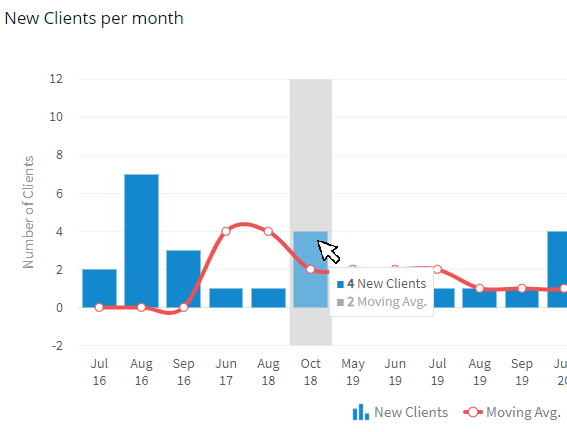 Within each area of the firmTRAK ribbon, there are a group of subcategories for each. These subcategories are located in the right upper corner under your login name.
For Example, these are the subcategories for the "Clients" dashboard.